If you are looking for a spin bike to help you get in some terrific cardio workouts, one bike you may have your eyes on is the Peloton bike. Hot on the market right now, it has all the bells and whistles to say the least.
But how does it compare to say a Proform bike? These bikes have been on the market for a very long time and are proven to be great candidates.
Peleton vs. Proform?  Which wins out in this battle? It's not so much a case of which wins out, but which is better for you. That is what we are going to aim to get at with this article, so you can make an informed decision.
 
Peloton
Proform
Footprint
48 inches long by 24 inches wide
65 inches long by 25 inches wide
Frame
Welded steel frame
Commercial-Gauge Solid Steel
Resistance
Neodymium rare earth magnet system
26 Digital resistance
Drive
Poly V power transmission
Inertia-Enhanced Flywheel
Console Features
21.5 Full HD Multitouch

TV

WiFi Connection

Wireless and ANT

Bluetooth 4.0

10 inch Smart HD Touchscreen Display

EKG Bluetooth Heart Rate Receiver

Camera
Yes
No
iFit
No
Yes
Fan
No
Yes
So what does all this mean? How do these two bikes stack up? Let's take a closer look.
Footprint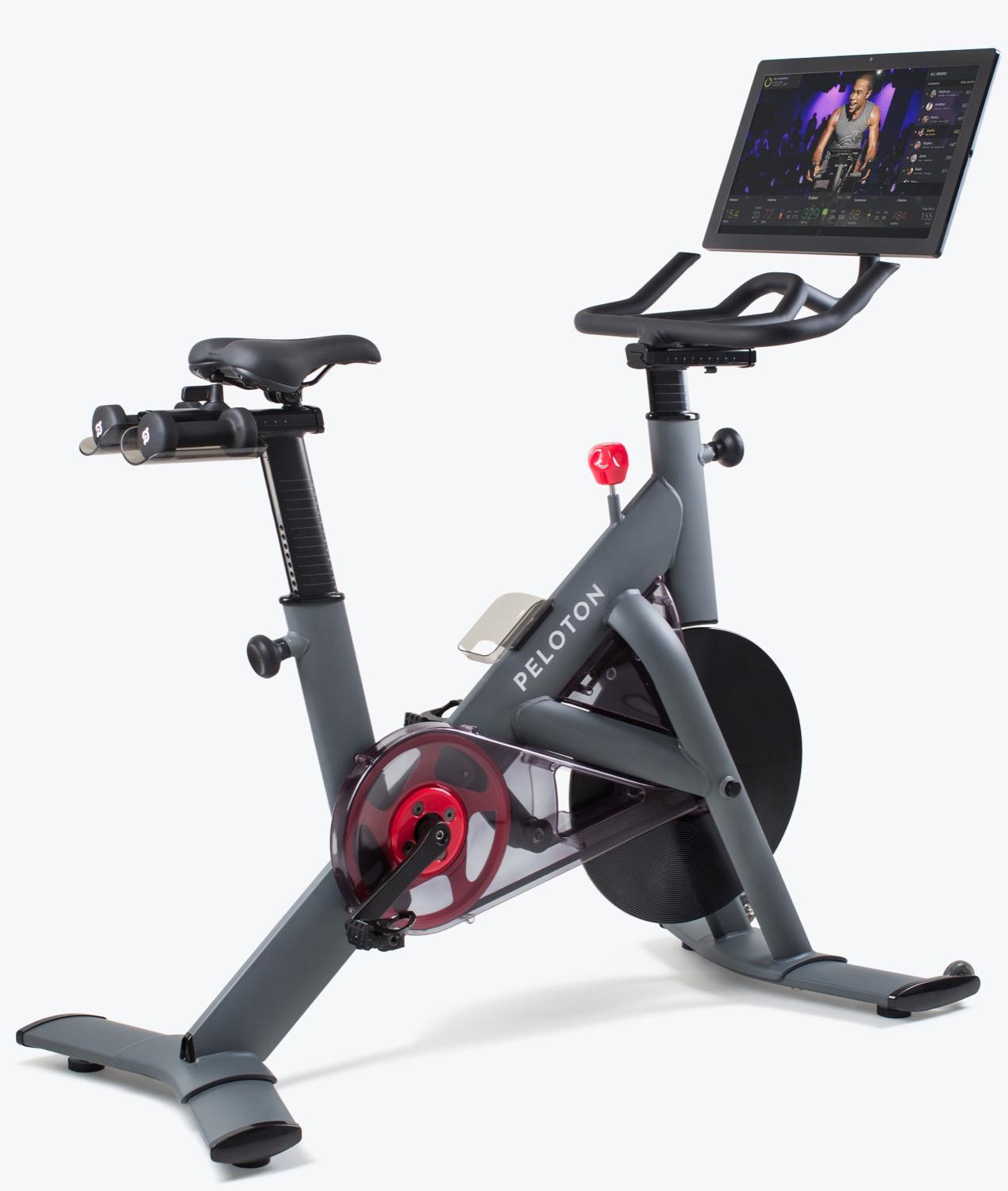 When looking at the foot print of the Peleton vs. Proform exercise bike, we do see that the Proform bike is considerably bigger. You'll be over 17 inches longer, so if you are exercising in a small space, this could become a consideration for you. It's only an inch wider, so not much extra in that direction.
Most people should fit both quite easily, but it still is worth mentioning nevertheless.
Frame
Next up we need to consider the frame of the bike. Both exercise bikes are made from high quality steel, so there shouldn't be much difference between them in terms of their overall durability.
The frame of the bike is a consideration point because this can impact how stable and durable it feels, so both bikes should have no issues with this.
Resistance
Now let's consider the resistance levels. The resistance on the Peloton bike is a magnetic system while the resistance on the Proform one is an digital resistance system. Meaning, there is a higher chance that you may run into issues with the resistance function on the Proform over time.
Most people will use these bikes without an issue, but if you bike long enough, often enough, it's to be noted that there may be some drawbacks to that resistance type. People often overlook this, but it is an important consideration.
The Proform bike comes with 26 different resistance levels, while the Peloton bike can be used with an essentially unlimited amount of resistance.
This said, the resistance of the Proform bike is typically going to be more than enough for most people.
Drive
Now let's talk about the drive features. The Peloton bike has a Poly V power transmission while the Proform has an inertia enhanced wheel. The inertia enhanced wheel is designed to mimic the feel of a real life bike, so  if that's the feel you are going for, you'll likely find that you have greater success using this bike and feel more comfortable.
On the other hand, the Peloton bike is designed to help you keep the ride smooth and quiet, so if you plan to exercise in the home early in the morning or late at night, this may become an important consideration.
Don't forget to consider the noise made by these machines as some of them can be quite noisy. If you are listening to headphones while riding it, it's not going to impact you any (in fact, this is why most people overlook this factor), but it will impact those around you.
Console Features
The console of the Peloton bike is one that is definitely prized. You get streamed classes right before your very eyes, so you can follow along with the instructor. It also comes with a very large LED panel and plenty of great options for heart rate and such.
But, it also comes with a price. The Peloton bike does charge you a monthly fee for this service, so this alone puts many people off this bike entirely. Many purchase at home exercise equipment so they can get out of the costs of a gym membership but with this bike, you still have those ongoing fees. And, they are just about as pricey at $39 per month. While you can pause your membership, if you do that, you won't be able to use the bike as you should so it's not really a valid consideration.
The Proform bike is not be overlooked. It also offers programs however these are pre-programmed in so there are no ongoing fees.
On top of that, it is also compatible with iFit coach and offers EKG Bluetooth Compatible heart rate receiver.
Essentially, this bike does offer many of the same upgraded features as the Peloton bike does, but without that ongoing cost.
Camera
Want to snap a picture of yourself? You can do so on the Peloton bike. Sadly, the Proform does not come equipped with a camera, so you'll have to do it the good old-fashioned way if you want to.
Fan
Finally, the last consideration when taking into account the Peloton vs. Proform exercise bike is whether it has a fan. This can really up the comfort of your workout if you don't happen to have one at home.
Here, the Proform does come with one while the Peloton does not.
This is a fairly easy fix to overcome however by simply getting an external room fan instead.
So there you have the pros and cons of each of these bikes. Both are terrific options and should help you see a good workout session. The ongoing cost of the Peloton bike is what puts most people off and makes them look elsewhere. At $39 per month, it will add up fast and you are spending an almost additional $500 per month on those fees alone. It could, in theory, go towards buying another additional piece of cardio equipment if you had room and that would give you even more variety.
But if cost is not an issue, you may really prefer this and may find that it helps you stay consistent with your workout program.