With so many different biking options, many people wonder which will be best for their personal get-fit goals. To start, all three types of bikes– recumbent, stationary, and indoor a.k.a. spin – have many things in common. With each bike, you're getting a serious cardiovascular workout while also toning the major muscles in your lower body like your quads, hamstrings, calves, hip flexors, and gluteal muscles. Bikes are also great for those days when the weather outside isn't exactly calling your name. If it's too cold, too hot, or too rainy, simply hop on an indoor bike and you won't have to think twice about the bad weather hindering your routine. But with that being said, each machine is also very different from the next. Read on to stay in-the-know on the details that make each bike unique.
Recumbent Bikes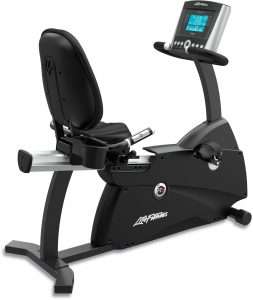 If you prefer a more comfortable, low-impact workout, the recumbent bike's the machine for you. A recumbent bike allows a rider to get their workout on in a somewhat reclined position. Because they're ergonomic, riders are able to distribute their weight evenly and comfortably over a larger area. The result? More support for the butt and back area. And, because of this, recumbent bike users are able to work out for longer periods of time in the most comfortable (it's true!) way possible. According to multiple studies, pedaling in a recumbent position actually makes the legs work harder than they would if they were in an upright position. And if that's not enough to convince you, many recumbent bikes offer bonus accessories such as super comfortable foam back cushions, padded seating, and innovative accessories to keep you on your bike for as long as possible. Last but definitely not least, recumbent bikes work for people of all shapes and sizes. Whether you're short and muscular or tall and lean, there's a recumbent bike that'll work for you and your workout.
Stationary Bikes
A stationary bike is a bike with a saddle, pedals, and a handlebar that looks similar to that of a moving bicycle. Most of these bikes use electromagnetic induction to create resistance, while magnets are used to slow down the flywheel's rotation. Because you're sitting upright for your entire workout, your abdominal muscles will be hard at work, stabilizing your body while you get your sweat on. With an upright bike, a user has the option to choose from a number of innovative preset workout programs. These programs seamlessly mimic the feeling of riding up and down hills – it's truly an amazing experience. Thanks to its central console, a stationary bike is an extremely effective way of working out – many machines even come with heart rate monitors so you can easily track your progress. Bonus: if you're looking for a full-body workout, many stationary bikes come with dual-action arms designed to work out your back, chest, arms, and abs. They're higher priced, but work tirelessly to give you the best workout possible.
Indoor Cycling Bikes
Unlike stationary bikes, indoor cycling bikes (also known as spinning bikes) come with a weighted flywheel, which is connected to the pedals through a transmission system that is closely similar to the system on a real bike. This flywheel, along with direct-contact braking, provides resistance to mimic the feeling of riding uphill and downhill. It's very similar to an actual road bike since you have to lean forward to ride. You're also able to adjust the handlebars and resistance, which feels just like changing gears. Indoor cycling bikes are popular among professional bike-riders, major athletes, and regular gym-goers that are looking for a seriously-sweaty, calorie-torching workout. With that being said, unless you're looking for a more intense workout or are training for a race, a spin bike may not be your best bet.
All in all, biking is a great workout – no matter which machine you choose. If you're looking to burn calories, lose weight, or tone and tighten your body, an exercise bike is the way to go. But they go beyond being great for your body – they're excellent for your mind as well. Hopping on that bike for just 10-minutes a day can improve your mood, energy level, and overall appearance. Plus, studies show that cyclists live two years longer than non-bikers and take 15 percent fewer sick days. Need we say more? We think not. Now that you have a better understanding of what each machine is about, which one you'll choose? We'd love to hear your thoughts, so sound off below!