Every month, food products across the U.S. are recalled due to health concerns or awareness of contamination. The Food and Drug Administration closely monitors most food items produced, except those that include meat and poultry, drinking water, and alcohol, which are under the regulation of other governmental organizations. The FDA works to protect the public from ingesting harmful products that can affect individuals and communities.
To better understand the FDA's work and the implications for the average consumer, we've analyzed four years of the department's Weekly Enforcement Reports. The data reveals substantial differences in both the incidence and causes of food recalls across time and location. Keep reading to get a sense of how your own state fared.
Food Recalls in Recent Years
According to Foodsafety.gov, food manufacturers or distributors typically issue recalls for three reasons. The first reason is the presence of an organism that may make someone sick. These are salmonella or E. coli concerns, among others, related to bacteria that can cause damage to the body. The second reason is when potential allergens are discovered in a product, such as nuts, gluten, or dairy. Ingesting them can be fatal, especially if a person is highly allergic to any of these substances. The third is in cases where food has been mislabeled or misbranded.
The FDA reports its recalls and findings to the public and provides information on when they happened and why. The number of recalls over the last five years has fluctuated, with the highest percentage in 2017. While states with the most recalls vary, California had the lowest number of recalls per capita from 2015 to 2018.
State-to-State Recalls
Vermont and Delaware sat at the top of the list for the most food recalls per 100,000 residents. Delaware saw the highest proportion of recalls in 2014, but Vermont claimed that unprestigious title in 2017. California and Texas, meanwhile, boasted the lowest number of concerns per 100K residents.
Change in Recalls, by State
The FDA also reports on the total number of food recalls for each state and fiscal year. There are a variety of factors that may contribute to a state's increase or decrease in overall cases. We can speculate those to be weather changes, soil nutrition, or even issues with product transport.
The state that saw the greatest improvement in food recalls from 2014 to 2018 was New Mexico, which saw a 26.2% decrease in FDA recalls. On the other hand, states like Oregon and West Virginia experienced an over 40% increase in food recalls. States such as Alabama and North Carolina experienced nearly no change in recall cases during this time frame.
FDA Recalls, by Cause
From 2014 to 2018, the top reason for food recalls across the U.S. was undeclared allergens, followed by salmonella contamination, except for a small number of states. These incidents do not include meat, poultry, or eggs because these products are regulated by the Department of Agriculture's Food Safety and Inspection Service.
Not all recall cases are immediately closed, however. As of summer 2019, almost 16% of the FDA's cases are still ongoing. To help consumers find information on specific recalls, as well as trends from 2012 to 2019, the FDA presents this data in easy-to-understand charts and graphs.
FDA Recalls, by Item
Upwards of 19% of all food recalls were dessert-specific, with snacks, seasonings, and condiments following behind. The only states where snacks weren't the sole No. 2 recalled items were Rhode Island and Arkansas for seasonings and condiments, while Alaska had more dietary supplement recalls.
Recall Process
On the FDA's website, you can see which recalls have been terminated, completed, or are still ongoing. Regarding food, the termination timeline, or the period of time between announcement and conclusion, often lasts months. On average, the timeline can take almost an entire year. While Oregon and Arkansas boasted the shortest time between recall and termination of the case at 7.4 months each, New Jersey took 11.9 months to close a case, on average.
Recall Process by Reason
Cases of unapproved or incorrect ingredients took the longest time, on average, to resolve: 12.8 months. Other recall reasons showed a much closer range, between 10.5 and 8.8 months. Only cases of chemical contamination took a much shorter time: 3.9 months on average.
Recall Instances, by Month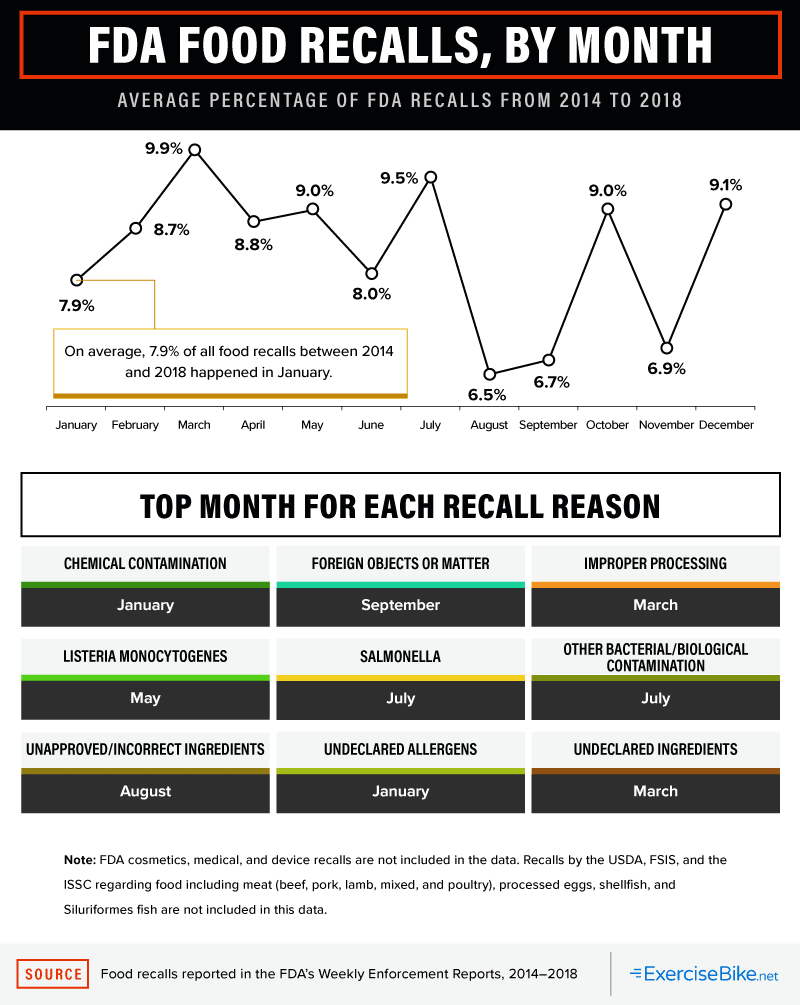 Do you ever wonder if certain times of the year elicit more food recalls? Maybe it seems like you hear about produce issues during summer, the season of fresh fruits and vegetables, or in January when you're trying to get back on track after holiday binging. Examining recall data from 2014 to 2018 showed, on average, most FDA food recalls occurred in March, followed by July, and December.
Seasonal Food Recalls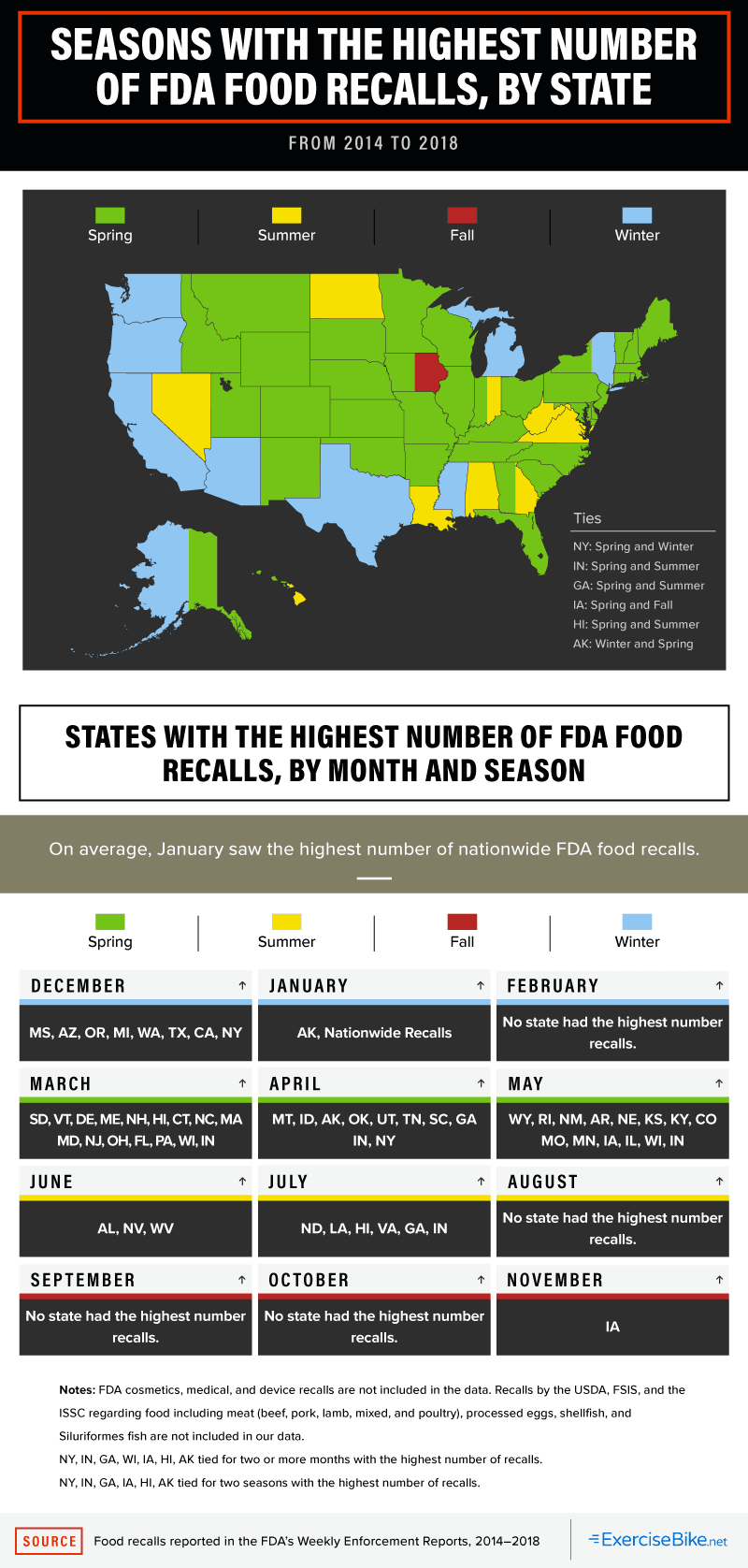 The West Coast and Southwestern states were likely to report more recalls during the winter, while the East Coast and Central states saw its cluster of recall issues in spring. Some states even had the most recalls across multiple seasons, such as New York, Illinois, and Georgia. The FDA provides an entire list of food recalls by date. On average, January saw the highest number of FDA food recalls issued nationwide.
What We've Learned
Food recalls are serious business. Without the FDA, Americans would be at high risk of consuming substances that not only can make them sick but also could prove fatal. The issues that may warrant a recall include bacterial issues, unregulated allergy ingredients, and mislabeled foods.
To protect yourself, the government suggests signing up for free recall notifications and heeding warnings issued by manufacturers. If you suspect you may have purchased a food product included in a recall, the FDA says you can either throw away the item or bring it back to the store in which it was purchased so that the product can be disposed of properly.
Methodology
For this project, we used data of single food recall events reported in the FDA's Weekly Enforcement Reports from 2014 to 2018. State names for recalls on food that weren't issued nationwide were gathered manually. This information is included in the recall notes accompanying all recalls in the FDA's Weekly Enforcement Reports.
About recall initiation: The FDA can be notified about an issue in different ways – from the manufacturer, by inspecting a manufacturing facility, through a report of a food-related health problem to the FDA, or if the Centers for Disease Control and Prevention (CDC) contacts the FDA.
About recall termination: The FDA determines all reasonable efforts have been made to remove or correct the product. The product subject to the recall has been removed and proper disposition or correction has been made. Written notification that a recall is terminated is issued by the FDA.
About the FDA's role in food recalls: "Recalls are almost always voluntary. Sometimes a company discovers a problem and recalls a product on its own. Other times, a company recalls a product after FDA raises concerns. Only in rare cases will FDA request a recall. But in every case, FDA's role is to oversee a company's strategy and assess the adequacy of the recall." (fda.gov/consumers/consumer-updates/fda-101-product-recalls).
This project only examines FDA food recall events between 2014 and 2018. FDA cosmetics, medical, and device recalls during this time were not included in the data. Recalls by the USDA regarding food including meat (beef, pork, lamb, mixed, and poultry), processed eggs, and Siluriformes fish were not included in our data. The FSIS has jurisdiction over all wild-caught and farm-raised Siluriformes fish that are harvested and sold for human food in the U.S. Furthermore, recalls of raw (fresh and fresh frozen) oysters, clams, mussels, and whole and roe-on scallops were not included in this data. The safety of these products is ensured by the Interstate Shellfish Sanitation Conference (ISSC), which consists of federal, state, and industry partners who administer the National Shellfish Sanitation Program (NSSP).
Fair Use Statement
Do you want to educate your friends and family about our findings on FDA food recalls? The graphics and information found on this website are available for noncommercial reuse. Feel free to share them as much as you'd like across the web and on social media, but please make sure to link back to this page. Thank you!