Here are the best exercise bikes from several top brands. Also in the mix are a few popular products that might not score well in one category, but make up for it in another. We've broken down the list into three categories: recumbent, stationary upright, and indoor cycle trainer. Regardless of which style of bike you prefer, you will find nothing but the best of the best below.
Best Recumbent Bikes
If you picture an exercise bike (or even a regular bike) in your mind, you'll probably imagine a bike with a saddle and handlebars in an upright riding position. While this is how most bikes are designed, it's not the only way. Say hello to the most popular alternative to upright cycles: recumbent bikes.
Recumbent bikes provide a strong alternative for those who find regular exercise bikes uncomfortable. The upright position of regular bikes forces most of your weight to be supported by your pelvis and your hands. While this is the standard cycling position, some users find it deeply uncomfortable. Regular bikes can also be tough on your ankles and knees. Long rides can lead to back, butt, and even wrist pain.
Most upright exercise bikes are fully adjustable, and you can usually change the saddle for comfort. Yet even then, some people simply cannot enjoy a regular exercise bike. If you've tried cycling and found it less than enjoyable, a recumbent exercise bike could be the perfect solution. Comfortable and easy to use, they are the ideal alternative for exercisers who don't enjoy traditional exercise bikes.
Recumbent bikes are especially gentle on the body. Featuring high-backed seats, these bikes let riders lean back with support. The main advantages of recumbent bikes over traditional stationary bikes include the easy-to-access frame design and chair-like seat that allows for low-impact exercise. These advantages make recumbent bikes popular with both physical therapy patients and people in peak condition.
Our three favorite recumbent exercise bikes are the NordicTrack Commercial VR25, the Sole LCR, and the NordicTrack Commercial VR21.
#1 - NordicTrack Commercial VR25
The combination of a tablet holder, touchscreen, built-in programs and iFit makes this unit engaging for almost anyone.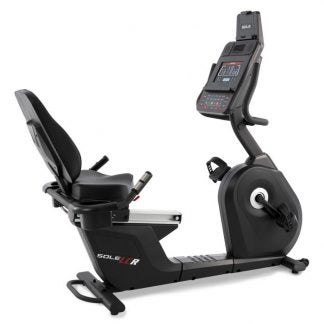 #2 - Sole LCR
The Sole LCR is a comfortable and reliable exercise bike for shared workout spaces and home gyms.
#3 - NordicTrack Commercial VR21
The comfortable Commercial VR21 is an entry-level recumbent bike with a variety of features and iFit readiness.
back to menu ↑
Best Stationary Bikes
Stationary bikes provide the perfect simulation of using an outdoor bike. While you can get fit and lose weight cycling outdoors, it's not always the best option. After all, you'll have to take your chances with the traffic and many drivers are far from considerate to cyclists. On top of that, your workout is constantly interrupted by having to stop and obey the rules of the road. If you simply want to put your head down and maintain an appropriate exercise heart rate, this constant start/stop can be very frustrating.
For these reasons and others, many cyclists turn to stationary exercise bikes. With no traffic or weather to contend with, you can disengage your brain and focus 100% on your workout. The built-in displays and pre-loaded workouts ensure your time on a stationary bike is as productive as it is enjoyable. You can even park your bike in front of the TV and watch your favorite shows while you work out.
The classic stationary bike is an upright exercise bike. Compared with recumbent bikes, upright exercise bikes let riders burn calories more quickly. Yet, they are still low-impact when compared to indoor cycle trainers or spin bikes. Classic stationary bikes are popular with shoppers aiming to lose weight, get cardio exercise, and tone the lower body. Some are helpful for intense strength training too.
Our three favorite stationary bikes are the bulletproof Assault Fitness AirBike, the NordicTrack Commercial VU19, and the Sole LCB.
#1 - Assault Fitness AirBike
The Assault Fitness AirBike is a best-in-class fan bike with excellent reviews from customers and personal trainers.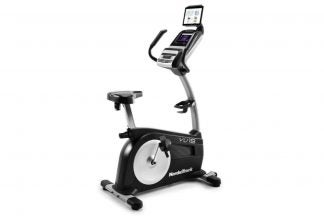 #2 - NordicTrack Commercial VU19
The iFit-ready Commercial VU19 Stationary Bike features 32 preset workouts and a 19-­pound drive which supports great cardio workouts.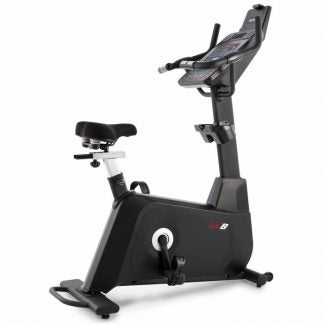 #3 - Sole LCB
The Sole LCB Upright Bike is a great basic for shared workout spaces and adds a bit of luxury to home gyms.
back to menu ↑
Best Indoor Cycles
Exercise bikes come in a variety of designs, and each design offers benefits and drawbacks. One of the biggest design variables is the system used for providing resistance or the braking system. Some exercise bikes use electromagnetic resistance, while others use large fans.
Indoor bikes, also called spin bikes, feature a heavy flywheel which provides arguably one of the most natural cycling experiences. This is the type of bike you find in spinning classes. This type of bike delivers a very smooth pedaling motion and most are set up so that you can adopt and maintain an aerodynamic cycling position. Usually fitted with narrow saddles and low handlebars, spin bikes offer the closest thing to an outdoor racing bike. This makes them ideal if you want to supplement outdoor workouts with indoor training (perhaps during the winter for example).
Indoor bikes are favored by serious bikers, but they are still suitable for beginners. The heavy flywheels on these fitness machines are engineered to reproduce the sense of inertia that cyclists feel outdoors. Compared with other stationary bikes, indoor bikes enable intense calorie burn. Plus, they make it possible to isolate different muscle groups. Riders can also stand up on the pedals, which they can't do with ordinary stationary bikes.
Our three favorite indoor cycles are the Keiser M3 Plus, the ProForm Studio Bike Pro, and the Sole SB900.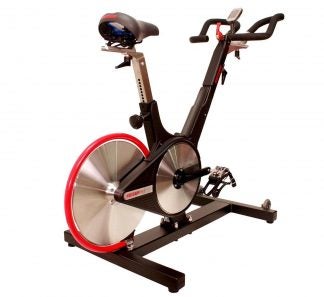 #1 - Keiser M3 Plus
The Keiser M3+ Indoor Cycle is built especially for spinners. It has light to powerful computerized tension and allows for a variety of handlebar grip positions.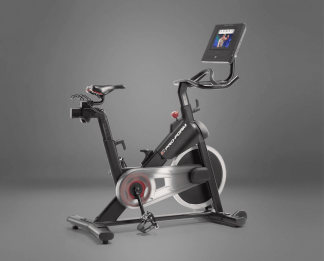 #2 - ProForm Studio Bike Pro
Featuring a 10" HD screen with an iFit connection for pro coaching, the ProForm Studio Pro Exercise Bike is among the most motivating fitness machines on the market.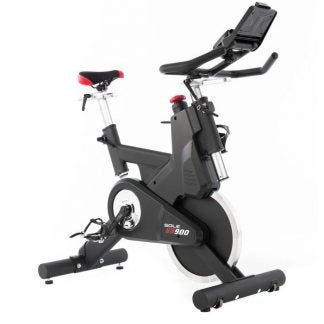 #3 - Sole SB900
The powerful Sole SB900 is engineered to support competitive training, body sculpting and weight loss. Its heart is a 48-pound flywheel that spins with quiet magnetic resistance.
back to menu ↑
Why Cycle Indoors?
Cycling is one of the best forms of exercise around. It's great for fitness, health, and toning the legs. Since cycling is a low impact form of exercise, it's also easy on your joints and potentially much less damaging than running.
However, riding a bike outdoors is not always convenient or desirable. Bad weather, poorly maintained roads, and other road hazards can really put a damper on your workout. You'll also need to strap on a helmet and make sure your bike is road worthy. Plus you'll also need to figure out how to fix punctures and make other minor on-the-road repairs.
If you prefer indoor cycling, you could join a gym and use their selection of exercise bikes. However, because exercise bikes are so popular, you'll have to wait your turn and waste a lot of precious gym time.
Types of Indoor Cycling
Some gyms offer group cycling classes called spin classes, which can be a lot of fun. However, because these sessions are so popular you might not always be able to join the class. You'll also have to follow your instructor and keep up with your classmates. That might trap you in a workout that simply isn't appropriate for your level of fitness.
You can avoid all of these inconveniences if you have your own exercise bike at home. Not only will you be able to work out in the comfort of your personal space and at your own pace, you'll also be able to exercise at any time. Simply pop your bike in front of the TV, pump up some music, and get to work. What's more, the more convenient your workout is, the more likely you are to do it. For a workout to be effective, you need to do it consistently. And if you have an exercise bike within easy reach, maintaining a consistent workout schedule is much easier.
But how do you find the best exercise bike for you? Well, you're here. That's the first step. We will make your search easier. After writing hundreds of fitness reviews, we've found the world's best exercise bikes and organized them by type: recumbent, upright stationary and indoor cycle trainer.
What makes a bike "the best" in our judgment? The best exercise bikes provide exceptional value. They offer consumer-friendly combinations of durability, comfort, features, and price. Our lists include exercise bikes at different price points, and machines for different types of trainees. We've found bikes for absolutely everyone. So start diving into our reviews and before you know it, you'll find the right bike for you.