ProForm Studio Pro 22 Bike Review
Sturdy frame, large 22-inch touchscreen, smooth magnetic resistance, interactive iFit training, and competitive pricing. This bike can make you fit.
ProForm Studio Pro 22 Bike Specs
| | |
| --- | --- |
| Rating | 9 |
| Type | Indoor Cycle |
| Console display | 22" Smart HD Touchscreen |
| Resistance | Silent Magnetic |
| Seat type | Adjustable |
| Programs | N/A |
| Flywheel | Inertia-Enhanced |
| Weight capacity | 250 LBS |
| Dimensions | 56.5" L x 21.9" W x 54" H |
Why You Should Trust Us

1200+ hours spent reviewing

120+ indoor bikes reviewed

20 data points evaluated per bike
I spent two months putting the Studio Pro 22 through its paces, accumulating roughly 30 iFit workouts that included a mix of live studio classes and guided scenic rides. How does this bike stand up to the competition?
Named for its 22″ touchscreen and live studio classes, the Studio Pro 22 Exercise Bike is ProForm's most engaging stationary bike yet—designed to compete with the Peloton Bike, the NordicTrack S22i, and others. Recently updated, this new model ditches the incline and decline function it once had, in favor of a lower price of entry.
The Bike Hardware
The ProForm Studio Pro 22 is a magnetic resistance bike with a belt drive and a 32 pound flywheel. This setup offers 24 levels of silent magnetic resistance. Pedaling the bike for the first time, I noticed how smooth and quiet it operates. If you wore headphones during the workouts, nobody else in the home will likely know the bike is in use. The bike frame is a very sturdy steel structure, I could not feel much flexing or vibration even under intense 115 RPM sprints or 600W+ out of saddle hill climbs. It feels comparable to any spin bike I've tried at a studio class at the gym. 
The included pedals come with toe clips and straps for use with regular athletic shoes, and are beginner friendly. I found the seat to be supportive and provide a good amount of cushioning, but many users will still benefit from wearing biking shorts. Both pedals and the seats are easily replaceable for aftermarket options, if desired. 
Around the back of the seat, the bike has supports for a pair of included 3-pound dumbbells for easy access during workouts. Some intermediate to advanced level iFit classes will use dumbbells to activate the upper body. 
The handlebars are a generous size, are very grippy, and comfortable to use in all hand positions. However, the handlebars only move up and down, but not forwards and backwards. I had no trouble quickly finding a comfortable position at a height of 5'9". The overall geometry of the bike is flexible to accommodate a rider of almost any height, and up to 250 pounds in weight. 
The base of the bike has adjustable height feet for easy levelling on any surface, and fairly large diameter wheels at the front for moving the bike around your home. But at 144 lbs in total weight and 56.5 inches in length, moving this bike around the home can be cumbersome, this is probably not a bike you want to stow away after every workout. It deserves its own dedicated space in your home. 
In order to reduce the price of the bike, the bike does not include any incline or decline adjustments. The frame of the bike is fixed to the base, unlike more expensive competitors like NordicTrack's S22i that offer automatic incline controls inside of iFit classes. This won't be a dealbreaker for most users, but it's something to keep in mind.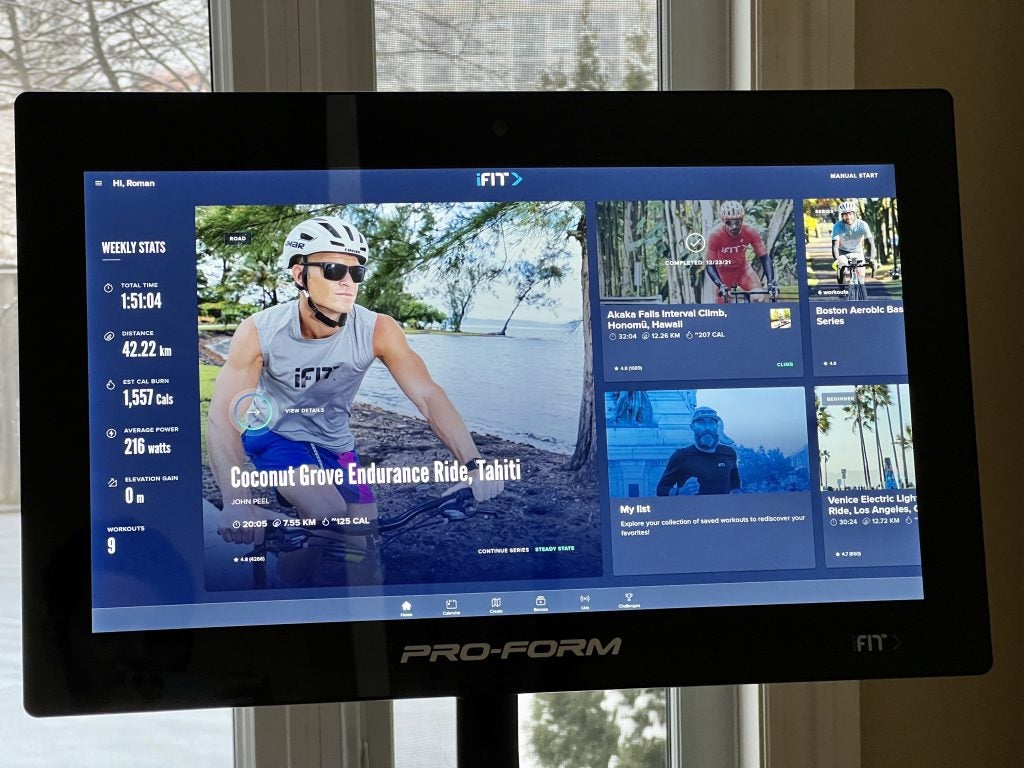 The massive 22-inch touchscreen is what sets the Studio Bike Pro 22 apart from lesser models in ProForm's lineup. It's a very generous size that makes the iFit workouts that much more immersive. I found the size of the screen to be just right in a seated position, but it can feel a little too large in standing out of saddle positions. I wish the screen had the ability to move even further back. 
The screen panel itself has decent brightness, I had no issues viewing the workouts even if the bike is set by a window during the daytime. It's plenty sharp too, it appears to be a 1080p LCD panel with good enough color accuracy. The touchscreen is used as the primary control method for this bike. Apart from two physical volume buttons on the side of the monitor, everything from iFit navigation, to resistance controls is done though the touchscreen. Overall, I found the user interface to be clear and the touch response to be fast while the bike is in a workout. However, the screen did slow down at times while navigating the library of iFit workouts, requiring some double taps to register. The top of the touchscreen monitor has a built-in camera and microphone array, but at the time of this review there are no applications or services taking advantage of this hardware.
A proprietary Android based operating system powers the whole experience, but there are no third party apps. The bike received two software updates during my testing, so it shows that ProForm is continuously refining the system. 
The downside of this heavy reliance on touchscreen controls, is that there is no physical adjustment for resistance. The red Stop knob between your legs is only a brake for the flywheel, it does not adjust resistance like on Peloton or Echelon bikes. Magnetic resistance on this bike is adjusted with a slider on the right hand side of the touchscreen during workouts, or you can leave it to the bike to automatically adjust resistance with ProForm's SmartAdjust algorithm. (more on that below)
What are the classes like?
ProForm Studio Pro 22 is designed to work well with the iFit subscription service. I found the iFit experience to be a genuinely fun and motivating experience for cycling at home. At the time of this review the ProForm Studio Pro 22 comes with 30 days access to iFit, and then it becomes a $39/month subscription. Is it worth it?  Let's look at the three main ways to use iFit:
1. Studio Classes
I spent the most time riding in live studio classes. iFit runs a live broadcast cycling studio out of Florida. Live sessions are generally available every hour at peak times throughout the day, with recording re-airing during slower times of the day. There are several very animated instructors leading a variety of classes of different difficulty levels. The quality of instruction during live sessions is comparable to Peloton or going to a good cycling gym.
The instructors are generally fun and motivational to follow along. They have good banter with in-person class attendees, and the instructors are also able to see the leaderboard with virtual participants. I've been called out by name by some instructors in particularly intense sessions, and found it to be very motivating. 
For the next level of engagement, instructors encourage virtual participants to send text messages into the class for positive encouragement. This is done with your mobile phone and a QR code that is displayed during the class. A nice touch to rally the group, but I found I would rather focus on pedaling rather than try and send text messages.
There is no need to adjust your own resistance during classes, as the instructor will do it for you. You have the option to override to select your own resistance preferences at any time, or follow the instructor. Resistance levels in iFit workouts are also relative for each user with SmartAdjust, and get progressively harder as you complete more workouts. When I first got the bike, I often found myself overriding and selecting higher levels of resistance. But after ten or workouts, I found that SmartAdjust selected more appropriate ranges based on my previous workout efforts. 
One issue I found specific to the ProForm Studio Pro 22 and iFit is again due to the absence of physical resistance controls. I'm a competitive person who wants to climb the class leaderboard as high as I can. The User Interface of this bike puts the leaderboard and resistance controls along the same edge of the screen. This means you have to choose between viewing the leaderboard and having resistance controls available. This is less of an issue after SmartAdjust learns your fitness level, however I feel like there is enough screen real estate here to show both. 
My final iFit complaint has to do with workout music selection. Workout music controls in the bike allow you to choose between EDM/Dance, Rock, Global Hits, and Downtempo Yoga channels that are independently streamed from the instructor's voice. This way each participant can listen to a genre that gets them pumped up. However, during my entire time riding the bike there was not a single track from a music artist that I recognized. The music is not terrible, it works to set the rhythm and beat to push you through the workout, but you're not going to find big hits here. It's not clear where iFit is licensing their music selection from, but it would have been nice to hear more popular and familiar songs. Especially when competitors like Peloton as licensing some big name musicians for their platform. 
2. Scenic Location Ridealong
iFit offers recorded scenic road (and mountain) bike rides with instructors all over the world. In these sessions riders follow an instructor on a lead bike from a vantage point of a camera recording on a follower bike. The rides typically range 15-30 minutes in length and take you to exotic destinations around the world. I enjoyed the Hawaii series with trainer George Hincapie that takes you through some treacherous road climbs. 
The instructors are your tour guides through these locations, and I found this type of workout to be an interesting alternative to studio cycling classes.
If I were to nitpick, I found it odd that there can be a mismatch between what the instructor is doing on screen and what they are telling the user to do. The workout generally follows a predetermined script that doesn't always match the terrain. For example, at times the instructors might be telling you to go hard at 100 cadence for 30 seconds, when their read world course terrain does not allow for this. 
3. StreetView Map Rides
The final way to use iFit on ProForm Studio Pro 22 is to map real world routes with the help of Google Maps and StreetView. I suspect this is the least popular option, but it can be helpful for road cyclists to simulate their favorite routes during the off-season. Heading over to the Create tab on the bike screen, you get a Google Map that you can centre on any location around the world and begin plotting a route by tapping some waypoints. 
I found it was very easy to create routes of any length and difficulty. Elevation changes are also taken into account in the route programming, and it's automatically reflected in magnetic resistance levels when you're riding up hilly sections. You've got the option to ride as an arrow navigating a city map that progresses along a navigation path, or change to Google's StreetView photography for a more immersive street level experience.
I found that I preferred to ride in top-down map view on more dense, urban locations because StreetView would jarringly jump between street level photos and interior photos from various businesses. In more remote locations, the StreetView riding experience was more fluid and immersive.    
Can you use it without iFit?
Yes, if you do not renew your iFit subscription you can still ride this bike. In the top right corner of the screen there is a Manual Start option. That takes you to a screen with a simulated 400 meter cycling track. However, at this point the 22-inch screen becomes overkill. This bike was designed specifically for studio cycling classes, and if streaming classes are not important for you, then you're better off with a Bowflex C6 or Sole SB600 bike. 
---
The Great
22-Inch Touchscreen: A 22″ touchscreen sets the Studio Pro 22 apart from ProForm's lower bike models. Designed with 180° swivel, it can serve as your high-def display for exercise courses both on and off the bike.
Live and On-Demand Classes: This new and popular model is proving to be a good replacement for a gym membership. You can try a different session on-demand every day, and ride along with world-class certified fitness professionals.
Frictionless Resistance: Quiet and smooth magnetic resistance lets ProForm Studio bikes make frictionless transitions among resistance settings. This helps the Studio Pro 22 serve quietly in your home. 
Comfortable Seating: The Studio bike saddle is padded for comfort and can be adjusted both vertically and horizontally. It has a universal stem too, so you can install your own bike seat if desired.
Convenient Water Bottle Holder: A water bottle holder is integrated with the bike frame to help you stay hydrated.
More Than Just Cycling: With full access to iFit, and the fact that the screen of the Studio Pro 22 swivels 180 degrees, you can follow along with a wide range of off-bike streaming workouts as well, including strength training, stretching, yoga, cross training, and others.
---
The Not-So-Great
Extra Cost: Purchase of the bike includes a 30 day subscription to iFit. After that, the fee is $39/month.
Learning Curve: Understanding all the capabilities of the Studio Pro 22 could take awhile a few workouts.
Touchscreen Resistance Controls: Would have been nice to have physical controls for quick resistance adjustments.
---
WHO SHOULD RIDE THE PROFORM STUDIO PRO 22 INDOOR CYCLE?
The Studio Pro 22 is best for riders interested in intense exercise and frequent workouts. It's recommended for weight loss, weight management, strength training and cardiovascular toning.  ProForm Studio bikes can fit shorter and taller individuals alike, and each unit can support up to 250 pounds.
The Bottom Line
The Studio Pro 22 is a solid choice for a home spin bike, and the iFit subscription offers a large selection of workouts that should prevent an average user from getting bored. While at first the 22″ screen might seem frivolous, it makes a significant difference to workouts by allowing highly immersive experiences — and since the screen can swivel, it doubles as a video workout monitor for your whole workout area.
At $1,299 the Proform is quite competitive and undercuts similarly spec'd bikes like the NordicTrack S22i, but the ProForm only includes 30 days of iFit and requires a $39/month subscription thereafter.