Search Results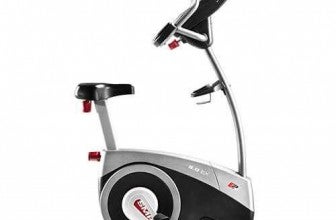 1
The new ProForm 8.0 EX Upright Bike is a low-priced, high-fun ride for keeping fit at home. It's loaded with guidance to help beginners exercise efficiently, and the bike's sound ...
0
This Model is Discontinued! Please see similar Proform Bikes here! Watch your favorite online shows or read your favorite blogs as you exercise! Built for a relaxed and secure ...
0
Leading the pack in comfort, the recumbent ProForm 440 ES Recumbent Bike is a popular choice for low-stress weight loss, muscle toning and cardiovascular training at home. Now a ...
0
Offering light resistance and plenty of workout guidance, the ProForm 14.0 EX Upright Stationary Bike is an easy-to-use trainer for calorie burn and cardiovascular exercise. Its ...
0
Black Friday and Cyber Monday 2021 are just about here. As always, we're expecting to see quite a few deals and promotions from our favorite exercise bike brands, though the Black ...
READ MORE +
0
Each year, exercise bikes for the home get better and cooler with 2022 bringing some of the best yet. While fans of the fitness scene may come to recognize some brands and ...
READ MORE +
0
Interactive training has turned the fitness world upside down. Exercise bike brands are taking note, ensuring their new models answer the growing demand for immersive fitness ...
READ MORE +
0
Looking for a new home exercise bike to kickstart your 2020 fitness journey or recharge your current exercise routine? With so many variations and brands on the market, knowing ...
READ MORE +
0
The competing pool of indoor cycles seems to be growing exponentially, and though we have yet to cover them extensively, Life Fitness is anything but a new entrant to the ...
0
We're five months into the year, and how many times have you heard Mom making comments about being more active or getting back in shape? If the answer is at least once (or even ...
READ MORE +