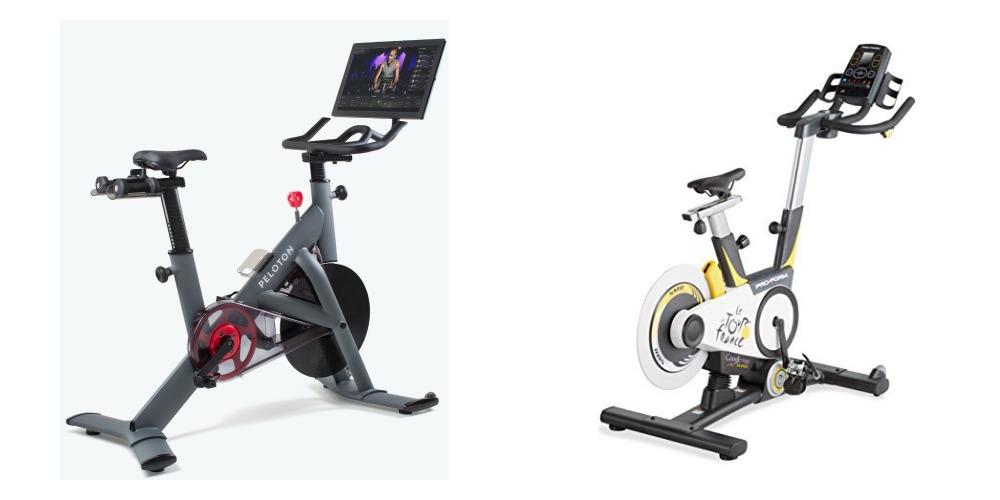 Ed. Update — Since writing this, the ProForm Tour De France bike has been discontinued. Thankfully a new contender has thrown their hat in the ring, delivering a closer-to-Peloton experience for the price of the ProForm listed below. The MYX Fitness Bike has rapidly become our new favorite affordable alternative—read the full MYX Fitness Bike review here.
As you gear up to get started with your new biking routine, you need to consider which bike is going to meet your needs the best. There's no question that there are plenty of different options out there, so at times, choosing the right one can feel quite overwhelming. Not to worry however.
With the right information at hand, you can make a good purchasing decision. The one important thing that you always need to remember in all this is to think long term. Down the road, what do you hope to accomplish with these workout sessions?
One mistake people make when selecting their exercise bike is only thinking about the here and now. What they want at the present day. But if you plan to use this bike for years to come (and you should), then you also need to consider advancement as well.
This said, two very popular models right now to look at are Peloton vs. ProForm Tour De France. Both of these bikes offer great riding experiences and will help you get professional guidance right in front of you.
So how do they stack up directly against one another? Let's take a closer look. For a closer look at the Peloton Bike, read our full review here.
 
Peloton
ProForm Tour De France
Footprint
48 inches long by 24 inches wide
65 inches long by 25 inches wide
Frame
Welded steel frame
Commercial-Gauge Solid Steel
Resistance
Neodymium rare earth magnet system
26 Digital resistance
Incline Features
No
Yes
Console Features
21.5 Full HD Multitouch

TV

WiFi Connection

Wireless and ANT

Bluetooth 4.0

10 inch Smart HD Touchscreen Display, 21 Tour De France workouts (on their studio bike pro)

EKG Bluetooth Heart Rate Receiver

Smart Swivel Design
No
Yes
iFit
No
Yes
Dumbbells Included
No
Yes
Toe Cage Pedals
No
Yes
Price
$2295 + $39/month
$1495 + $39/month
Let's look at these specs in closer detail.
Incline Features
Perhaps one of the most notable features of the Peloton vs. ProForm Tour De France is the fact that the Tour De France model comes with great incline features. This allows you to actually adjust the positioning on the bike so that it mimics going up a hill. This sets bike apart.
With most bikes, you simply just need to increase the resistance in order to give that feel that you are pedaling upwards, but with this one, you get that with this feature. The added resistance will only add another layer on top of it.
For those who like plenty of variety in their fitness program, this is a fantastic benefit.
Console Features
Looking at the console, both bikes are very well done with bright LED screens that are easy to navigate and a pleasure to use. The Peloton screen is used to stream spinning classes all over the world, led by an instructor so you get that additional motivational push.
The Tour De France console on the other hand is used to help guide you through different races done on the Tour De France, so it gives you that biking experience.
We can't really say that one is better than the other here, as it all boils down to personal preference. If you are more motivated by actually feeling like you are going somewhere and a change of scenery, chances are you will enjoy the ProForm model more.
If, on the other hand, you prefer motivation that comes from an instructor, the Peloton will be a better choice for you.
Find Peloton Bikes on AmazonFind Pro-Form Bikes on Amazon
Smart Swivel Design
As you look at the Peloton vs. ProForm, you'll also come to see that the ProForm offers a smart swivel design. This means that the console can actually shift positions, allowing you to view it in other angles apart from straight on the bike.
So if you get off the bike to do some stretching or resistance training but still want to stay connected to what you were doing, it's no problem.
This is a feature that the Peloton does not offer.
iFit
The ProForm bike does come with iFit enabled, so you can track your workouts, get workouts on demand, as well as get nutritional help as well.
Peloton doesn't offer this, however with its live streaming fitness classes, you get something totally else. You can tune into a spin class all around the world, anytime you want to ride.
Dumbbells Included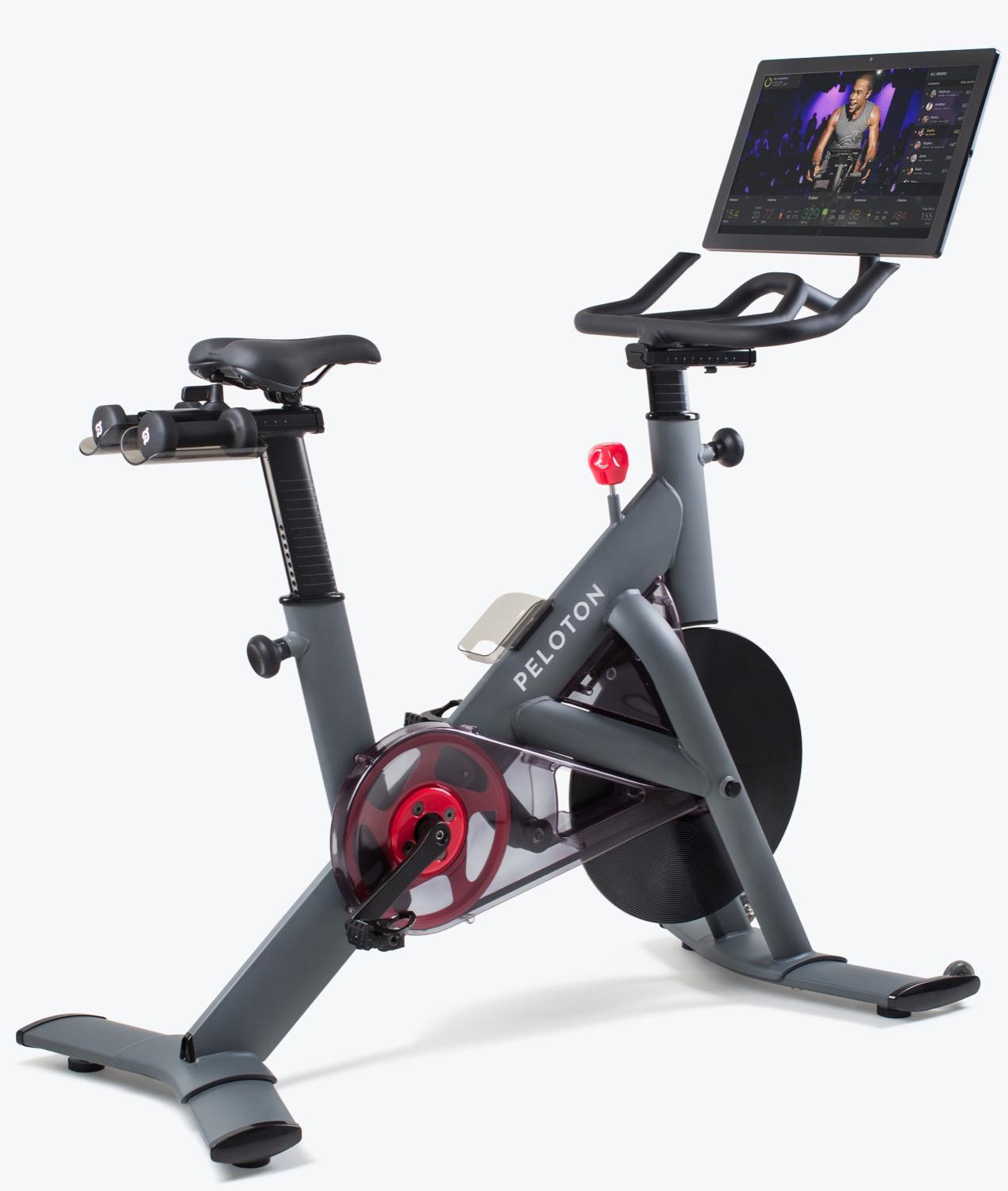 One interesting things about the ProForm bike is that it includes a set of dumbbells so you can do some resistance training with the upper body. Granted, these are only 3 pound dumbbells, so really, they aren't going to do much to improve your workout.
Furthermore, these can likely be purchased at your local fitness store for under $10, so it's not something that's giving the ProForm that much of an extra advantage.
Toe Cage Pedals
Next we look at the pedals. The Peloton comes with their LOOK Delta clip-in pedals, which may be convenient for some people, but aren't secure enough. ProForm solves this problem by offering the option of having toe cage pedals, which most people simply prefer.
Toe cage pedals will keep your foot nice and enclosed, so can give you that secure feeling you may desire.
Price
Finally, let's consider the price. The price is going to be the sticking point for many people because the ProForm model is simply much cheaper. Coming in with a one time fee of $1495, that's all you're going to pay. While it is more expensive than some other bikes on the market, it's likely not out of reach for most people.
When looking at the Peloton though, this bike is going to come in at a pricy $2295, so is in its own category. As soon as you go over $2000, many people are going to pause and wonder if it really is worth it.
But that's not all. On top of that, you also have a $39 monthly membership you have to pay in order to use the bikes features. So this is what will immediately put many people off. Getting into a monthly membership situation is not something that many people even remotely want to do, so you may find that you just turn an eye right away.
The bike is nice, but it simply doesn't have enough to offer to go that route.
So there you have some important points to remember when considering the Peloton vs. the ProForm Tour De France. Both bikes are very good options, but you will likely find that the ProForm fits your budget more.