Each year, exercise bikes for the home get better and cooler with 2022 bringing some of the best yet. While fans of the fitness scene may come to recognize some brands and models as perennial leaders, keep in mind that each year brings upgrades and improvements to those same machines. The 2022 lineup sports significant improvements to technology and interactive programming across the board. We've tested and reviewed these machines to help with the process, and below is to be found an well organized ranking by category. This way, exercise bike shoppers can find the model which suits their budget, body type, and interest.
Best Home Bike for Most People: NordicTrack Commercial S15i
Best Value: ProForm Studio Bike Pro
Best Affordable Peloton Alternative: MYX Fitness Bike
Best Fully Featured Budget Bike: Echelon EX3
Best Upright Exercise Bike: Sole B94
Best Full Body Workout Bike: Assault Airbike
Best Home Bike for Most People: NordicTrack Commercial S15i
A top pick by savvy home bike fans, the NordicTrack Commercial S15i brings a number of improvements to the 2022 model. For those who've seen this model in prior years, one of the big upgrades for 2022 is the addition of Bluetooth headphone connectivity. Other improvements include faster WiFi connectivity, and upgraded graphics in the 14-inch HD Touchscreen. What's more, the bike comes effectively free with a four-year membership to the iFit workout app. Priced at $396 per year, that means buyers can have the bike for a one-time fee of $1,872 or $39 per month instead that plus the cost of the bike.
We like the S15i as the best home bike for most people because it does indeed bring something for everyone, and features a decline as well as incline option. NordicTrack is no exception when it comes to manufacturer's desire to answer the public's demand for home fitness excellence. Using Silent Magnetic Resistance (SMR), the S15i features 22 levels by way of an inertia-enhanced flywheel. And the iFit workout app is a dynamic one indeed. Professional trainers from remote locations can control the bike in terms of resistance as riders engage group, or solo, workouts. iFit spin classes are offered in addition to a diverse range of workouts including Google Maps rides, yoga, kickboxing, and HIIT training.
The solid steel framed bike measures 55.75 inches x 22 inches x 61 inches and has a maximum user weight of 350 pounds. In addition to the 14-inch screen, this model also features a unique -10% decline, as well as 20% power incline. This is a rare feature amongst exercise bikes, but really helps riders get the feel of hills and valleys. The bike is also a comfortable ride with an ergonomic padded saddle, vertical and horizontal seat adjustment, a fan, and a non-slip multi-grip handlebar.
See our detailed review of the NordicTrack Commercial S15i.
Best Value: ProForm Studio Bike Pro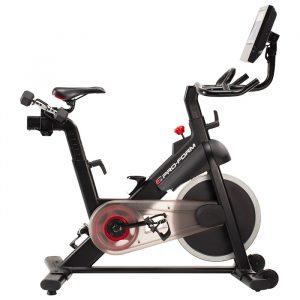 The ProForm Studio Bike Pro brings a terrific package for online pricing of $1,403. Very competitive with bikes priced much higher, the Studio Bike Pro purchase comes with a truly impressive 3-year iFit Family Membership, valued at $1,188. With interactive training programs and automatic trainer control, the iFit program also allows users to travel the world by way of Google Maps rides. In addition to the iFit programming, the Studio Bike Pro also features LiveCast Studio classes. Add all this to a lifetime warranty on the frame, three years for parts, and one year for labor, and it's easy to see why we rank it the best value.
Measuring 64.75 inches x 25 inches x 59.25 inches, the bike has a maximum user weight of 250 pounds. Rider feedback and other programming is accessible by way of the 10-inch Smart HD Touchscreen., which can swivel for better viewing. Utilizing Silent Magnetic Resistance (SMR), the bike offers 22 levels of resistance. A color-coded Watts display is included with the bike, which produces a visual of heart rate, speed, calories burned, and all other session data. In terms of comfort, the pedals only have toe cages, and not SPD clips like some of the other options on the market. But the pedals are a universal design so one can easily swap them out for a clip-in shoe for training.
See our detailed review of the ProForm Studio Bike Pro here.
Best Affordable Peloton Alternative: MYX Fitness Bike
Priced at $1,299, the MYX Fitness Bike brings a well-built answer to the home fitness bike fans seeking performance. With a fitness app priced at just $29/month compared to competing products around $39, value and cost are buzzwords with this model. This program brings a library of more than 500 routines and videos, with dozens of new routes offered weekly. Unlike the rival brands' Silent Magnetic Resistance (SMR), the MYX Fitness Bike utilizes traditional friction resistance with a solid 41-pound flywheel. With up to 100 levels of variable resistance offered, there's little chance a rider will outgrow the bike.
The bike also features a sizeable 21.5-inch HD touchscreen which swivels, and wireless heart rate monitoring. Measuring 54 inches x 21 inches x 47 inches, the bike supports up to 350 pounds in user weight. The one-year warranty is a bit short relative to the competition. That said, it does offer independent volume controls for the trainer as opposed to music, engaging trainers, and a broad diversity of workouts.
In addition, the MYX Fitness Bike does afford more adjustability than its competitors, offering a fore and aft adjustment to its handlebars. This does help to improve ergonomics for both tall and short riders.
See our detailed review of the MYX Fitness Bike.

Best Fully Featured Budget Bike: Echelon EX3
At well under a thousand bucks with a price of $799, customers really can ride the Echelon EX3 bike like they stole it. Shy a few bells and whistles yes, but pound for pound, the Echelon EX3 Bike is a great ride for those simply looking to spin.
Measuring 55 inches in both length and height, the bike is 20 inches wide, and weighs 104 pounds. One of the few bikes still on the market which does not come with a screen, this machine does have an affixed attachment unit for the user's own device. The device holder can flip 180 degrees and riders can either access the Echelon Fit app, or any number of different fitness programs or apps of their own choosing. Definitely a solid pick for the biking enthusiast who simply wants a solid machine and has their own plan in mind, this bike can hold up to 300 pounds in user weight.
Utilizing magnetic resistance, the Echelon EX3 features 32 levels of resistance by way of a heavy, 30-pound flywheel. Quiet, smooth, and steeped in resistance options, it's unlikely that riders will outgrow this bike. Interactive training by way of the Echelon Fit app is one of the the primary selling points.  Priced around $30 per month depending on the choice of plans, subscription to the app provides access to a wide variety of both on-demand and live classes. Lacking and pre-programmed routines of its own, the bike appeals to those riders who'd rather save the money and use their own device. While we'd like to see the warranty a little more substantial than one-year for parts and labor, we recognize the brand name is solid and the price is right for the right buyer.
See our detailed review of the Echelon EX3.
Best Upright Exercise Bike: Sole B94
At just $799, the Sole B94 is rated as the smoothest and quietest among the class of upright exercise bikes. Great for beginners and mid-level trainees, it's almost among the most comfortable. Measuring 46 inches in length, 23 inches in width, and 55 inches in height, the bike 123 pounds and can hold up to 300 pounds in user weight.
Equipped with a 9-inch LCD screen, the machine also has a built-in device holder for tablets or phones, and as expected these days it's Bluetooth-enabled. Heart rate monitoring is provided by way of pulse grips and chest strap capability. With 10 built-in programs, the Sole bike is also compatible with the Sole Fitness app, or the user can use any of their choice. Constructed out of durable steel, the 20-pound flywheel can generate up to 20 levels of resistance while users pedal about on adjustable gel-cushioned seats.
Another great selling point of the Sole B94 is the lifetime warranty on the frame, three-year for parts and labor, and one for labor.
See our detailed review of the Sole B94.
Best Full Body Workout Bike: Assault Airbike
A perennial bestseller, the Assault Airbike brings a lot to the home gym for less than $799. For those seeking an air bike, it's certainly top of the line. The preferred air bike used by the U.S. military, the infinite resistance provided by the fan system, combined with the handlebars, is tough to beat. Certainly not for everyone, riders either like air bikes or they don't. But for those who do, the Assault Airbike is our pick for sure.
The solid steel bike measures 50.9 inches x 23.3 inches x 48.4 inches, and weighs just 98.1 pounds. The six-blade, 25-inch fan, generates air resistance while the arm bars can also work independently. The bike is equipped with an LCD screen and wireless heart receiver. Engineered with three interval programs and five altenatives already built into it, the bike's display screen segment time, total time, distance, speed, RPM, watts, and heart rate.
The Assault Airbike comes with a five-year warranty on the frame, two-year for parts, and one-year for labor.
See our detailed review of the Assault Airbike.
Home exercise bikes are popular for good reason. Browse other models while considering these top picks as upgrades are ever-present. Also, consider our handy exercise bike Buying Guide to get started. Knowledge is power and allows customers the ability to zoom in on the type of bike they're looking for, be it air-powered, recumbent, or upright.