MYX Fitness Bike Review
The competitive pool looking to dethrone Peloton keeps growing, however the MYX Fitness bike enters the fray from a slightly different angle than most.…
MYX Fitness Bike Specs
| | |
| --- | --- |
| Rating | 8.9 |
| Type | Indoor |
| Console display | 21.5" HD Touchscreen |
| Compact storage | no |
| Resistance | n/a |
| Seat type | Adjustable horizontally and vertically |
| Programs | MYX Fitness |
| Flywheel | 41 lbs |
| Weight capacity | 350 lbs |
| Dimensions | 54.0" L x 21.0" W x 47.0" H |
Why You Should Trust Us

1200+ hours spent reviewing

120+ indoor bikes reviewed

20 data points evaluated per bike
The competitive pool looking to dethrone Peloton keeps growing, however the MYX Fitness bike enters the fray from a slightly different angle than most. The startup brand—whose bike comes from a sister company to Schwinn—has entered the ring by acknowledging that not everyone who works out is competitive, and not everyone can stomach a sticker price north of $2,000 on a bike that will continue to cost users $39 a month in perpetuity thereafter.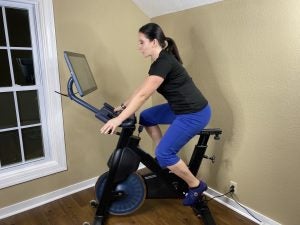 The MYX Fitness bike starts at $1,399, is jam packed with features, and in a few ways even surpasses the Peloton bike. Meanwhile, the MYX II Plus retails at $1,599 and comes with more options yet. It still comes with a monthly subscription cost of $29/month. Is it for everyone? Not really, but it's a smart and solid contender in the interactive streaming fitness category. To put things into perspective, where the Peloton Bike is the bike for the well-to-do elite athlete, the MYX Fitness bike brings this high class tech into a product that's approachable enough to appeal to a much wider buying segment. Whether you're new to working out at home (or at all), or if you're a seasoned spin class fanatic, the MYX Fitness bike will no doubt hold some appeal.
Bike Construction and Features
After a good amount of time in the market since its initial launch, the MYX Fitness Bike seems to be living up to its anticipated durability and reliability. The bike is built by the Beachbody Company, parent company of Beachbody on Demand, and Openfit. While Schwinn exercise bikes are not especially cutting edge or high end, so to speak, they are good reliable bikes for those on a budget, and the MYX Fitness Bike is no different in many respects.
There are a good number of items that make the MYX Fitness bike a stand-out offering even before getting into its streaming training offerings. The bike is one of few in the category with forward adjustment for its handlebars (as well as height). This was long seen as a hang-up for bikes that run screens, as further accommodations need to be made for power supply routing, but it seems the builders of the MYX Fitness bike found a workaround. Its massive 21.5-inch screen swivels to allow riders to follow along with off-bike workouts—a common complaint from Peloton riders.
Training Classes/Programming
As of April 2021, there are over 1,000 training programs currently available for the MYX Fitness bike, split between the categories of endurance, high intensity interval training, stretching, yoga, and others. They've been picking up the pace since launch, and have been adding hundreds of classes every month, ensuring that there's no lack of diversity in the training calendar. This is a pretty big jump considering that they launched with roughly 500 classes recorded, and were initially adding 40 classes per week.
This figure is rapidly catching up with the likes of Peloton and NordicTrack too, who love to sell the idea that they have "countless classes to choose from". The reality of the matter is, even if you're doing a class a day, every single day (you won't be), it'll still take a few years for you to catch up to the total number of programs on the MYX Fitness Bike, and that's under the presumption that MYX stops recording classes immediately (not gonna happen). As we noted above, the monthly subscription cost to access this streaming video training is $29/month.
The overall user interface/configuration of the software on the MYX Fitness bike has been very well received. Its home screen has a very "Netflix feel", so to speak, as users will scroll past recommendations, as well as a breakout of the different workout categories. They have also added access to Newsy to the MYX Fitness Bike interface—a news resource for those who occasionally just want to check in on the state of the world as they ride. There are also options for scenic rides, as well as more rest/recovery/mindfulness focused content for when you want to unwind on the bike rather than breaking a sweat and burning all the calories.
---
The Great
Large HD Touchscreen: Rather than mounting your own device, the MYX Fitness bike has a 21.5-inch high definition display built in. It can be tilted or swivelled for clear viewing whether you're on or off the bike.
Loads of Training Options: Stretching, yoga, endurance racing, it's all there depending on your mood. Just give the screen a twist when off the bike and you're good to go.
Smooth Stable Ride: The MYX Fitness bike has a heavy 41-pound flywheel and even though it uses friction resistance that added mass keeps things smooth even when up and out of the saddle.
Great Weight Capacity: With a 350-pound maximum user weight, the bike can satisfy the demands most riders and is higher than most of its peers
Great Connectivity: The bike is compatible with Apple Health.
Stylish Appearance: The bike looks great in either charcoal of white.
Cage and Clip Pedals: The pedals on the MYX Fitness Bike have toe clips on one side, and conventional cages on the other, giving riders ample choice for how they want to strap into their workout.
Well-Padded Competition Seat: The seat on this bike is a touch broader and more well-padded than the conventional cycling seats we see on other bikes.
In-Bar Bottle Holders: There's no awkward reaching down here, as water bottles rest in the inner area of the MYX Fitness bike's handlebars.
---
The Not so Great
Lacking Key Premium Features: Further to the point above, the MYX Fitness bike does not have incline/decline function, nor does it have a built-in fan—both features found on the S22i which also lives in this competitive pool. That said, it's priced accordingly, so its more a matter of how important those features are to your riding experience.
Relatively Limited Programming: The bike's app does not offer programming by way of live trainers.
Friction Resistance: One of the minor downsides of this bike is that it uses a friction brake resistance system rather than magnetic, however most riders are unlikely to notice a difference, especially on account of the heavier flywheel. There is a slight amount of noise associated with friction however, and no specific numbers associated with resistance levels.
Short Warranty: Much like Peloton, who they're clearly targeting with this bike, the MYX Fitness bike only has a 1-year manufacturer's warranty. This is sub-standard for the fitness equipment industry.
---
Who Should Use The MYX Fitness Bike?
The MYX Fitness bike is an interesting one, as it has similar appeal to those coming into the space craving support via streaming training sessions, can reach a broader audience with its more approachable price point, and also opens the door to those who don't have an interest in the often competitive nature of spin classes. With brands like Peloton and Echelon, it's all about the leaderboard, about keeping up with your friends, colleagues, and other people who ride in a similar pacing bracket to you.
With the MYX Fitness bike, the focus is more personal. It's about how fast and hard you want to ride, what your personal goals are, and not how you can beat so-and-so on your next ride. As an entry level rider this can be especially useful in cutting back the intimidation factor that comes with the spin class world. It's also worth noting that the tracking metrics and methods are different here than they are with Peloton and others. The core data capture, and where the encouragement and updates come from during streaming training are tied to heart rate. You won't be told to up your cadence, or to increase or decrease resistance to specific levels. Those suggestions will be more approximate, with the intent to be to focus on working a bit harder to push that heart rate up to where it needs to be.
The Bottom Line

Aside from the short warranty—a detail we still struggle with—the MYX Fitness bike is the new class leader when it comes to affordable streaming training bikes. This thing is a home run in terms of value in every respect, and unless you're already a hardcore spin class enthusiast with a competitive edge to you, we'd be hard-pressed to find a reason to step up to a Peloton bike over this one.
MYX Fitness Bike Specs
| | |
| --- | --- |
| Rating | 8.9 |
| Type | Indoor |
| Console display | 21.5" HD Touchscreen |
| Compact storage | no |
| Resistance | n/a |
| Seat type | Adjustable horizontally and vertically |
| Programs | MYX Fitness |
| Flywheel | 41 lbs |
| Weight capacity | 350 lbs |
| Dimensions | 54.0" L x 21.0" W x 47.0" H |